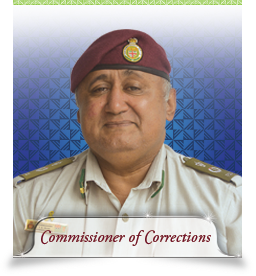 Commander Francis Kean was appointed Commissioner of the Fiji Corrections Service on March 4, 2016. His appointment was made by his Excellency the President on the advice of the Prime Minister. He is the overall Commander of FCS and is responsible for the organisation and administration of the Fiji Corrections Service, its deployment and the control of its operations. In addition, he is responsible for the provision of safe and secure and humane management of persons in custody by providing opportunities to correct offending behaviour, develop work and life skills and provide quality custodial services.
Commander Kean was Permanent Secretary of the Ministry of Works, Transport and Public Utilities prior to his appointment.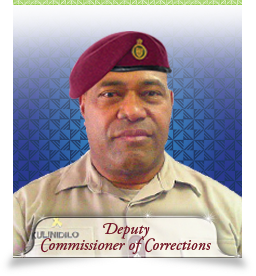 Senior Superintendent Jo Kulinidilo
SSP Kulinidilo is a career corrections officer who joined the Service on October 10, 1988. He  was appointed into the position of Deputy Commissioner  on April 4, 2016 to oversee the Operations, Administrations, Logistic Services, Budget and Capital Projects which include the overall monitoring, reporting and performance of the organisation though the Strategic Framework for Change and Coordinating office. He has overall oversight for Commercial Operation of the Trade and Manufacturing Accounts (TMA).
Prior to his appointment, he was the Assistant Commissioner of Operations.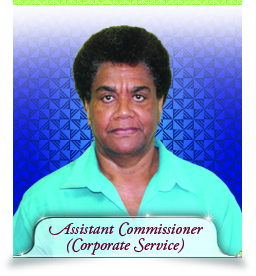 Mrs Salesia Racaca is a career Human Resources and Employment Relations Manager with experience spanning across a number of Civil Service Ministries and with the Pacific Island Centre for Public Administration, (PICPA) a project under the University of the South Pacific.
She worked through the ranks in the Civil Service from Middle to Senior Management level. She also spent 11 years at the Public Service Commission as Principal Management and Employee Advisors.
Mrs Racaca has the overall responsibility for the administration for the Corporate Services Section and management of all support services with the Fiji Corrections Service. This includes Human Resource Unit, Accounts, Strategic and Policy Unit, Welfare and OHS unit, Information Technology Unit and Registry Unit.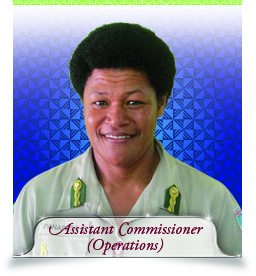 Superintendent Salote Panapasa
SUPT Salote Panapasa created history for the Fiji Corrections Service when she became the first female appointed to the post of Assistant Commissioner Corporate Service (ACCS) on April 16, 2016.
In January 2018 she was re-appointed as Assistant Commissioner of Operations. She is responsible for the overall provision of the safe, secure and humane management of offenders in custody in all our 15 institutions. This is done by monitoring the implementation of policies and procedures relating to the safe custody and welfare of inmates. She also ensures that all operational orders and directives are carried out promptly and effectively throughout the ranks and that the security of all institutions is maintained at all times.
She also has overall oversight for Community Outreach and Rehabilitation.
The highest female ranked officer in the Service was the Supervisor Corporate Services prior to her appointment.