By LICE MOVONO – Today Media Fiji
 (Published in The Fiji Times, October 5, 2021)
 She lost five years of her life to a horrific mistake which resulted in tragedy but Jessica Hill now credits her newfound determination to make her life matter with the loss of her freedom.
At 26 years old, many young people lead a carefree life of relatively little worry and with a lot of choices ahead of them.
But on a May night in 2013, the young accountant was intoxicated and driving a car and veered into oncoming traffic hitting straight into a vehicle driven by a woman whose life ended that night.
"The first realisation I had of how serious that accident was, was when the officers who arrested me told me I had 'murdered' someone. Do you know you killed her?" Ms Hill said.
"I thought, this is it, this is the end of the road. You know I was still under the influence of liquor so there were so many things going on in my head. At the time it felt like there was nothing else for me out there.
"I walked around the room looking for a way to end it. I just wanted to give up."
Sentenced to seven years in prison, life as she knew it ended for Jessica.
"In the beginning, I would close up. I couldn't speak and would just shut down when the (prison) psychiatrists would try to get me to talk. It was too painful," Jessica said of the recovery and healing process.
Overwhelmed with guilt, she would clam up and struggled to commit to the rehabilitation efforts of the Department of Corrections.
Being without those things many young people take for granted, the ability to go where you please and do as you want was tough.
Not long after beginning her prison term, Jessica's marriage, which had been violent and the reason she was in that car drunk that fateful night, ended too.
"There are so many things we take for granted. I missed time with my family, people grew up and moved on in life. In prison you are restricted to so many things, your limits are always there."
She credits her healing to the Fiji Corrections Service and their network of non government organisations who helped her take responsibility for her actions.
With the help of a faith based organisation she was able to contact the family of the woman whose life was lost in the accident to seek forgiveness. While most attention has been on the victim's family, she was able to get professional tools to find her own healing.
"I am so sorry for the decision that I made the cause the death of that beautiful woman who passed away. If there is anything that I've learned in life after that accident is that I know for sure that every decision that I make now needs to be a good decision to make the right choices in life and not to do things that will hurt others."
Cue Fiji Fashion Week (FJFW)'s partnership with the FCS who started a programme teaching inmates the basics of fashion design.
At 'Devo', she found a new family in fellow inmates and the correction officers whose sacrifice she said was the mainstay of her rehabilitation and recovery.
"While we are sleeping like Queens and princesses, these officers are there looking after us, helping us make sense of what we did and guiding us through," she said.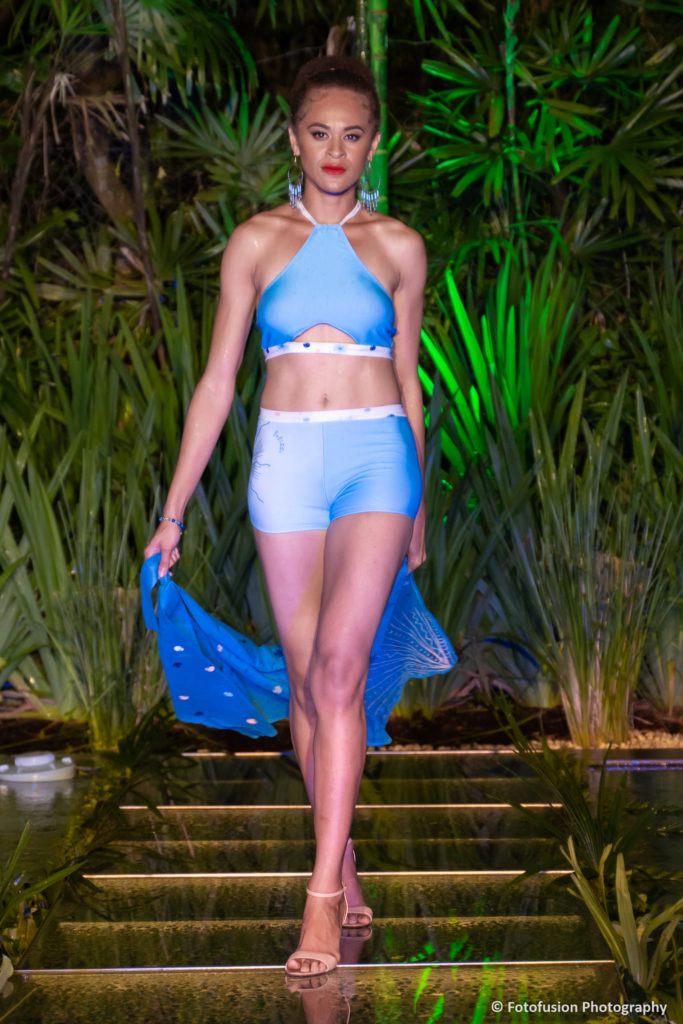 "I didn't know much about it before I went in but fashion gave me a way forward."
At the delayed FJFW2020 season, Jessica's fashion work quickly gained prominence not only because it was the first time a serving inmate showcased at a Fashion Week event but also because her work competed on an equal scale as the established designers she showed with at the Oceans Gala show that she was a part of.
In February this year, Jessica was given early release after successfully completing work placement from within prison.
"I missed so much but i also realised there was so much that was available now on the market. I can easily look at world trends and know how much more i can do and the technology that is available now to make fashion work so much easier is so good!"
"I guess it's just been you've been away for too long, you come back you know you're so excited, it's like a new discovery for you it is to find new access to things like Canva. And it's really exciting to start designing your stuff."
"There's a lot of new things out there and now we get to see a lot of these ideas but now I have access to the internet I know what's in the market. There are a lot of people to know and its easy to work with other designers and see what they come up with."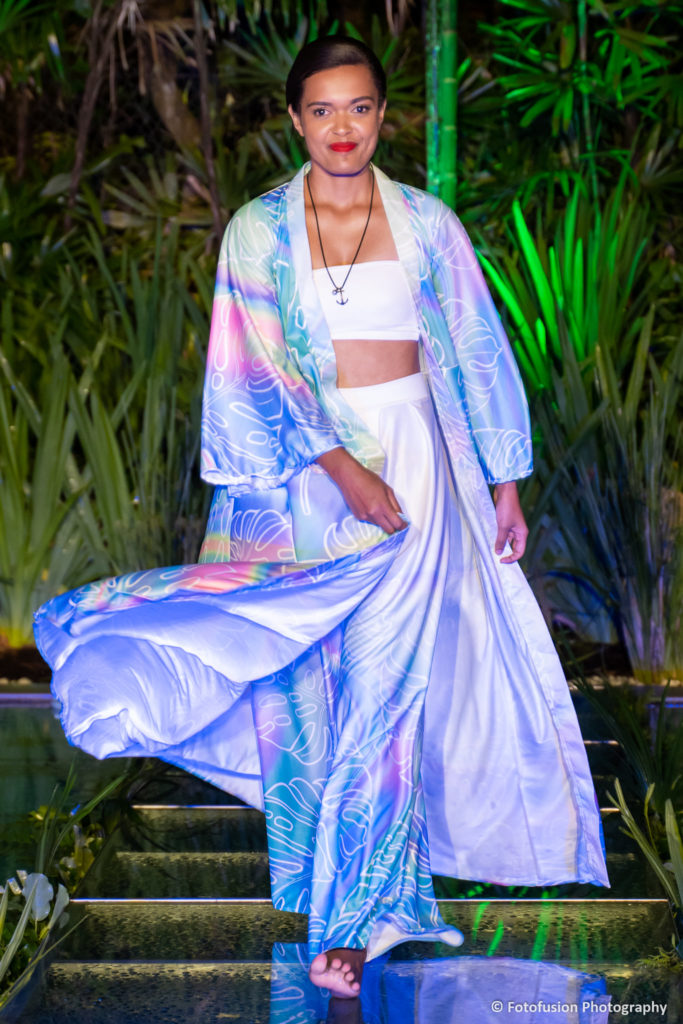 Inside, the FCS/FJFW partnership resulted in the placement of Amanda Harman, a technical advisor at FJFW shows who is the main guide to inmates interested in fashion.
In her fellow inmates, Jessica had a network of willing and able seamstresses and budding designers who were invested in her success. Outside in the real world, she is minus all that support and it is a cause to be nervous about albeit small.
That gap was quickly filled when people in the FJFW community stood in to support her through the nervousness of reentry.
"I am so blessed with people like
Epeli Tuibeqa and Laisiasa Davetawalu who have just been so generous and answered all my questions. I'm taking to Lai almost every night and even till 2am sometimes."
"I believe that once you take responsibility for your actions and try to do good every day, making sure that you're aware of every decision you make and how it can hurt people, God sends good people your way to remind you of who you are."
Her FJFW21 collection is a representation of what freedom means for the inmate who will finally be discharged at the end of the year.
Aptly named 'Shades of Freedom" it is runway illustration of a woman coming into her own in that the designer personal struggles is taking a turn for the better. But Jessica also hopes that in expressing her freedom she can help other women do the same.
"It will be freeing because it will be flowy but there are also some crop tops there because i believe there's a liberation that comes from knowing you are comfortable with your body and with what you look like," she said.
Showing on Monday 23 November alongside multi award winning designer Moira Solvalu of the 8mountains label