o6 February 2023
The Fiji Corrections Service participated in a nation-wide Civic Pride activity and cleaned up cemeteries around the country.
The event which took place on the afternoon of Friday, 3 February, 23 saw the combined effort of approx. 300 officers from the 4-Divisions attending to cemeteries in their respective jurisdictions.
Supervisors from the Northern Division and Western Division led the clean-up in their areas while combined the efforts in the Southern and Central Division was led by the Deputy Commissioner Senior Superintendent Apakuki Qura at the Nasinu Cemetery.
"At least twice a year we conduct similar Civic pride events as our contribution to keeping the community clean and also just to get our personnel out of their usual work environment and come together in what is also a team bonding activity for us,'' Mr Qura said.
"I thank the men and women for coming out in numbers and for the overall effort."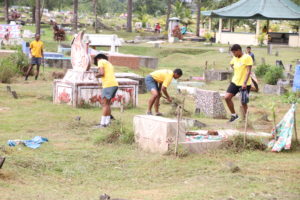 He added that on that same note the FCS is also mandated and responsible for managing and maintaining the public cemeteries throughout Fiji and they include Suva, Nasinu, Vatuwaqa, Lautoka, Levuka and Labasa."
Mr Qura, said the activity will be on going for the next few weeks and he had urged the public to take more responsibility especially the proper disposal of their rubbish when they visit the cemeteries as it is the resting place of their loved ones.
"We urge the public to be more responsible with their rubbish when they visit the cemetery, one day they too will be buried here."