ON Wednesday, 19 January 2022, the FCS traditionally welcomed its new Chaplain, the Rev. Kinijoji Serutawake and his family  at the Central Eastern Division Bure surrounded by Officers and NCO's.
And three days later, on Sunday, Rev Tawake led his very first service at the Corrections Chapel in Korovou.
Rev Tawake said in all his years of service he never imagined that he would have the opportunity to serve at the Fiji Corrections Service.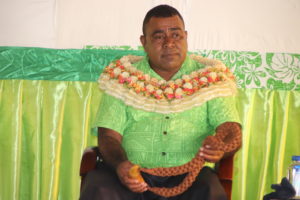 He hails from the village of Natauloa, from the island of Nairai in Lomaiviti.
He has served in Lovoni Village, Saru, Bemana, Noco and was also the BATT 21 Chaplain for the Republic of Fiji Military Forces in Iraq in 2009, an experience he believes will also help him with his term at the FCS.
He is married to Adi Lealea Siga from Batiki and has two children Manasa Lasaro (17 yrs) and Sovaia Adilutu (12 yrs).
"God has sent me to many different places where I have experienced many different elements and cultures with my family, it had tested our faith and taught us all a great deal about life and about being obedient to God's calling.
"But now I can see that I have been given another greater purpose here at FCS, which is the call to help restore lives.
"I take my hat off to FCS officers, because their job is almost the same as mine, we all have the noble calling to change the life of someone who has gone off track and bring him back so that they become better people to serve our country."
"It is the work of men and women of faith, and I look forward to my term here."