07 February, 2022
National caption Jo Vakurinabili led the Wardens team on a second half surge to pip Fun Flavour Super 7s Series defending champion Police 10-7 over a wet and slippery Lawaqa Park on Saturday evening.
Wardens made a second half comeback after Police lead led 5-0 at the break. The Wardens team was unknown  Vakurinabili led was relatively unknown against a start-studded line up of  Suliano Volivoli, Waisea Nacuqu, Keponi Paul, Kini Dougls, Filipe Sauturaga, Joseva Talacolo and Waisea Nacuqu.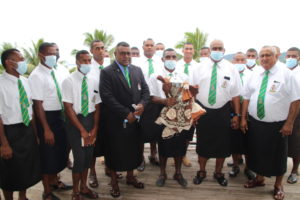 The star-studded side failed to make its presence known as the Wardens took advantage of a man short to score two quick tries after the break.
The game turned midway in the second half after a Police player got yellow carded.
Wardens quickly increased their urgency and focused their attacks up the middle scored a try off of a quick tap from captain Josua Vakurunabili.
They missed the conversion, however after winning possession again from a quick re-start found Esala Nalobo unmarked on the wing as he went in for their second try to seal the game.
The Wardens were hosted to a thanks giving church service at the FCS's quarterly Family Service on Sunday at their new FCS Chapel where the Commissioner Commander Francis Kean, officers, men and women with their families congratulated the team.