Saturday, 18 March 2023
The Vanua of Ra has given its support to work closely with Fiji Corrections Services (FCS) on the rehabilitation and reintegration of inmates back into their community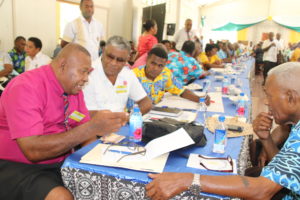 This was the assurance made by the chairman of the Ra Provincial Council, Manoa Seru, during the Yellow Ribbon Symposium organ¬ised by FCS at Nanukuloa,
Ra on Friday, 17 March 2023.
"Listening to what FCS presented during the symposium reminds us that an ex-offenders' rehabilitation and reintegration journey is often filled with ups and downs," Mr Seru said.
Acting Commissioner of Corrections Salote Panapasa said it was humbling to see such great numbers attend the one day meeting with the FCS.
"Over 300 people registered to attend the meeting today and that has been the biggest number recorded to date in all our meetings with provinces."
Commissioner Panapasa outlined a few achievements with the Province of Ra but highlighted the fact that Ra had already chosen its representatives to the Ra CARE Committee (CARE – Community Action for the Rehabilitation of Ex-Offenders) well before the meeting on Friday.
"This CARE committee is very important to the work of the FCS because they will be our link to the Vanua right down to village level to assist with the reintegration of an inmate who is returned back home," she said.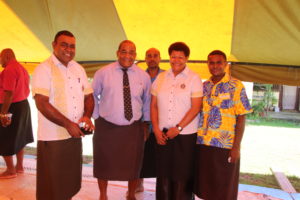 "I am also proud to let everyone know that this Ra CARE Committee will be led by one of our own in former Deputy Commissioner of the FCS, Mr Akuila Namakadre – another proud son of Ra who even after retirement is still keen to do the work of rehabilitation for his Vanua."
Mr Nakamadre said they have their work cut out, especially because they were alluded to the fact at the meeting of the high crime rate of rape and abuse of women and children in the province against other crimes.
"This must be addressed at village level, we must change the way we raise our children, it only points to our way of parenting which is the major cause or reason why children go astray."
The Ra CARE Committee and FCS will sign an MOU in the near future which acts as a guideline on the work that they will do.
The CARE Committees will operate under the Ra Provincial Council and also work hand in hand with the Crime Prevention Committee.