FCS marks beginning of Lent
February 22, 2023

RA Province on board with FCS
March 20, 2023
Wednesday, 15 March 2023
Over the weekend Corrections officers from Minimum Corrections Center in Naboro went up to the hills in Nayavu, Wainibuka to work on the plantation of inmate Michael Mow who is due to be released later this year.
Mr Mow was accompanied by 5 Corrections Officers to help him clean up and expand his dalo and cassava farm so he may be able to harvest when released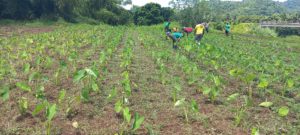 This practice termed "solesolevaki" also engages the members of the community to help one of their own to plant, maintain and later on harvest their produce in the absence of a paid work force.
The FCS would like to thank the Vanua Rara and villagers of Naqia for their support of programs conducted in their area to help reintegrate ex-offenders back into their community. This week the FCS will also have a team up in Vunidawa, Naitasiri for another serving inmate who will also be released later this year.
error: Content is protected !!